Taste of creeping bellflower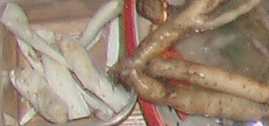 After a bit of gardening today I had a surprisingly large bunch of solid creeping bellflower roots. (Though I'm not really familiar with the popular English name "creeping bellflower" seems the most common name Google turns up for Campanula rapunculoides). I've been told that these tubers are edible, so why not try them..?
The culinary surprise of the day is that raw bellflower tubers are delicous! Washed and lightly peeled the roots are white, crisp and have a sweet, somewhat nut-like taste. It reminded me of "gobon", my favourite Japanese vegetable. Find some garden that needs some cleaning up and try them for yourself..
<<: Helland and the "flower piece" -- Wergeland for Liv Riiser >>