shoogatsu: food
Here is the lavish breakfast table served on the first day of the year.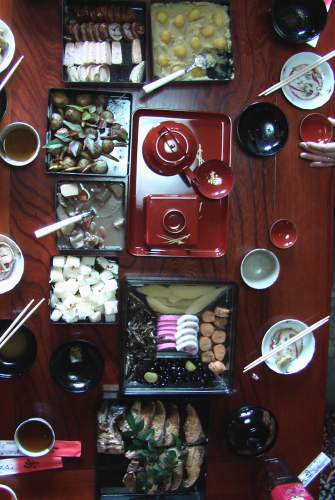 Most of the food served for this meal has specific symbolic significance. Below is a list of the food with its Japanese name as well as the symbolic meaning where I remember it.
薩摩芋

satsumaimo, mashed sweet potato

酒

sake, the famous rice wine

菊花蕪 (大根)

daikon, japanese radish. "Chrysantemum"-cut (kikukabu).

くわい

kowai - a sort of potato. For growth

数の子、鯛の卵

various types of fish roe. For fertility

魚

sakana - fish

豆

mame - black, sweet beans.

煮しめ

nishime - soup.

田作り

tatsukuri. Small fishes. For good harvest.
Small note: if your web browser has excellent DOM and CSS support, you can point at the food and see description in a tooltip. It works with Opera, at the time of writing it does not work with IE or FireFox.