After landskappleiken 2005
The old, UNESCO-listed town of Røros was an amazing location for a generally well-organised "landskappleik" (the major Norwegian Folk Music festival). A few things might have been organised in a different way, as always..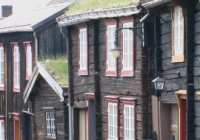 Mainly, why place extremely popular events like the "lausdans" competition in a smaller hall? To get in one would have to come early or queue for ages. Obviously with the tight program Landskappleiken always presents, space and time is hard to find - but all the "A"-level competitions should take place in the biggest space available.

That is also true for the singing competition. The famous old church "Bergstadens Ziir" is an amazing space, but not so well suited as for events where the audience expects to come and go when it suits them.

The magazine "Spelemannsbladet" stated that they hoped Sami culture would also make its mark on this kappleik-event. Perhaps it was just me, but I did not notice any such thing. I assume Sami people do not feel that Landskappleiken is a natural arena for them even if the editor of "Spelemannsbladet" wants to give them access. The audience at an event like Landskappleiken is extremely competent on the specific genre of music we have come to listen to. On the other hand, most of us know very little about Sami culture.

I believe this audience is curious about and positive to Sami music in general. Perhaps in the future we will manage to show evidence of our interest and to learn more. But if one wants to use Landskappleiken as a meeting place it will take more effort than just wishful thinking from the "Spelemannsbladet" editor. The organisers of Landskappleiken must arrange concerts. To include Sami music in competitions one would have to find the right category ("open" or "vocal", for example) and competition judges who know the Sami traditions. And one must find and invite the practitioners. They won't just come - at least not today.